The King & I
The official cast photo: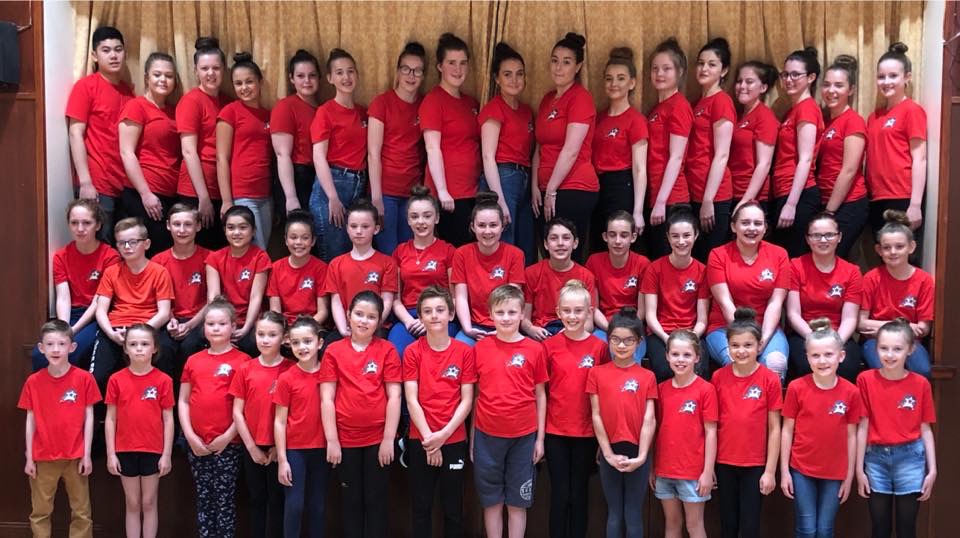 ---
The show was absolutely fantastic. The kids really enjoyed performing and it was very well received by the audience on every night and the Saturday matinee. We've put together a few photos to summarise our show week. First let's meet the cast principals:
Kicking off our "Meet the Principals" section, above we have talented twelve year olds Sam and Sophie M who play the part of Phra Alak on Wed/Fri and Thurs/Sat nights respectively. Phra Alak is Chief Scribe to the King.
Princess Ying Yaowalak is played by two of our youngest principals, Eve (Wed & Fri) and Lucia (Thurs & Sat). Princess Ying is one of the King's youngest daughters. She's a delightful, eager little girl who is extremely fond of her schoolteacher Anna and heartbroken at the thought of losing her.
---
Next, above we introduce four more of our fabulous principal actors and their characters from our forthcoming show, The King and I……
The King's Interpreter is the first man Anna encounters upon her arrival in Siam. He is played by seasoned Rising Youngstar Lena (Wed/Fri), and newcomer, Martha (Thurs/Sat). Both girls are 12 years old and like the majority of our principals are also part of our ensemble for the two shows when they are not cast in a speaking role.
Abbie (13) and Cassie (15) both attend Webster's High School and The King and I is Abbie's 4th RYS production and Cassie's second show with the company. The girls play Sir Edward Ramsay in the Wed/Fri and Thurs/Sat shows respectively. Sir Edward is a cultured and dignified British diplomat who has travelled to Siam to determine whether the King is indeed a "barbarian". He is a warm, gracious and open minded man.

---
Now, above we give a big shout out to 12 year olds, Daisy and Zara, 15 year old Catrina, and Rebekah who is 17.
Middle aged Englishman, Captain Orton is played by Daisy. The Captain spends his life on the seas and has probably never seen a single woman like Anna making such a long voyage with her child before. He is especially caring for them and concerned for their well-being.
Zara and Catrina play the part of The Kralahome on Wed/Fri and Thurs/Sat respectively. The Kralahome is a very important member of the Royal household. He has served the King faithfully for many years and has become his most trusted advisor and confidant. As such, The Kralahome is very protective of the King and consequently is not very warm or welcoming to Anna when she arrives in Siam.
Webster's High School's Head Girl Rebekah is our Dance Captain. As a senior member of the group she has worked closely with the production team for the King and I and has been responsible for leading our ensemble in all choreographed sections of the show.
---
Next, above we introduce Zoey (9) and Kearan (12) who play Louis, Anna's smart and inquisitive son on Wed/Fri and Thurs/Sat respectively. Louis' father died several years ago, but he and his mother have a very strong relationship. Mother and son are extremely close and Louis is very protective of Anna. Both Zoey and Kearan's love of performing shines through whenever they are on stage and they play the part of young Louis with great aplomb.
Prince Chulalongkorn is the King's eldest son and heir to the throne. Like his father before him he has been groomed to be King since birth. He is supremely confident – even a bit arrogant and stubborn. Twelve year old Sophie G plays the Prince on Wed/Fri and ten year old Angus takes over on Thurs/Sat. The two have taken part in many full scale Rising Youngstars productions and their enthusiasm and love of the stage is always hugely evident in their performances.
---
Isla (12), Catie (13) and Fergus (12) are all experienced young Musical Theatre actors, having appeared in a variety of local showcases and amateur shows, including many Rising Youngstars productions since a young age. All have successfully completed a number of Trinity College Musical Theatre Exams. The three are close friends which is just as well, as there is quite a bit of chemistry between their characters in this show!
Isla and Catie play Tuptim on Wed/Fri and Thurs/Sat respectively. Tuptim is a teenage girl from Burma who has been sent to be a slave in the Royal Palace. She speaks excellent English and loves to read. Tuptim has a great determination and is willing to take risks to get what she wants.
Fergus plays the part of Lun Tha. He serves as a young diplomat for the Prince of Burma and as such, is well educated and responsible. He is very much in love with Tuptim and would do anything to protect her, but this love causes him great heartache and at times puts him in grave danger.
---
Above we meet Stefi (14) and Alix (15). Both girls attend Webster's High School and have taken part in numerous Rising Youngstars productions to date. Stefi's credits include hopeless police chief Captain Smolsky in Bugsy Malone and kind hearted Miss Amelia in A Little Princess, while Alix's recent roles include straight laced solicitor Mr Skipwith in A Little Princess and grumpy father of two, Mr Harry MacAfee in Bye Bye Birdie. Our production of The King and I sees the girls play the King's head wife, Lady Thiang on Wed/Fri and Thurs/Sat respectively. Mother of Prince Chulalongkorn, Lady Thiang is dignified, dependable and incredibly loyal to the King.
---
Our penultimate "Meet The Cast" post introduces us to two of our most experienced young actors, Maddie (17) and Julia (14), who play the role of Anna Leonowens on Wed/Fri and Thurs/Sat nights respectively.
Anna is a British widow who has come to Siam with her son Louis to teach English to the King's many children. She is intelligent, strong-willed, poised and cultured. A well educated and patient teacher, she expresses her opinions in a polite but firm manner and grows to love all the Royal children in her care.
Maddie joined Rising Youngstars in 2013 as part of the ensemble for our production of Aladdin. She's also appeared with the company in Annie, The Wizard of Oz and Bugsy Malone, and last year took on principal roles in two of our shows, firstly as Miss Amelia in A Little Princess and then as Mae Peterson in Bye Bye Birdie. As well Rising Youngstars, Maddie has also enjoyed performing with The Kirrie Panto Group and Kirriemuir Amateur Operatic Society.
Julia became a member of Rising Youngstars as part of the Guys and Dolls ensemble in 2012. Over the years, in addition to being a chorus member, she has played several small roles including little orphan Molly in Annie and showgirl Velma in Bugsy Malone. Last year she took on her first leading role – Sara Crewe in A Little Princess. She then went on later in the year to appear as Mrs MacAfee in the groups production of Bye Bye Birdie.
---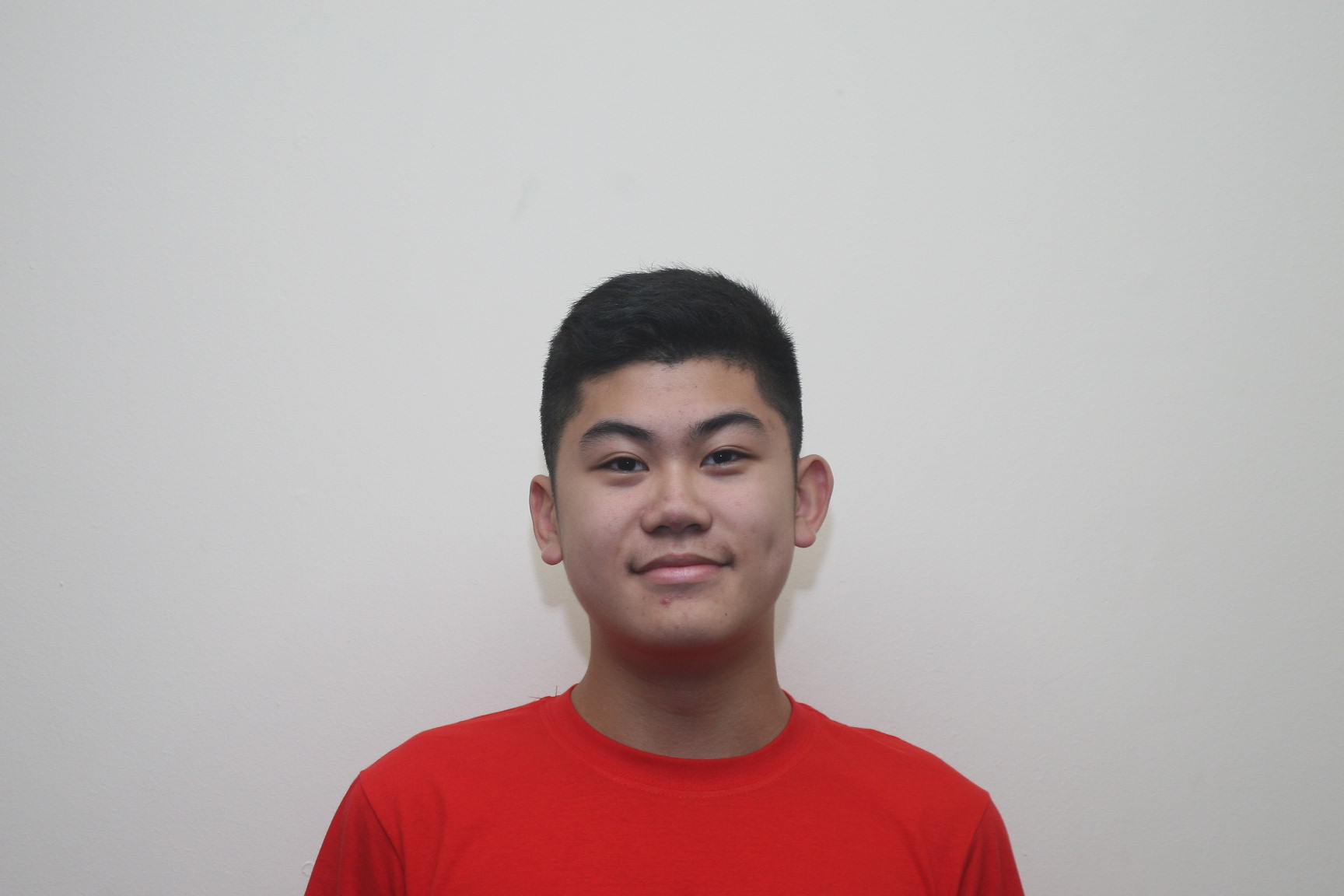 Our final "Meet the Cast" profile introduces fourteen year old Jason from Forfar, who is playing The King of Siam in next week's show.
Jason joined RYs back in 2015 when he was cast as the Wizard in The Wizard of Oz. The following year he played the smooth gangster Dandy Dan in the company's production of Bugsy Malone and the young actor joined the company once again in 2017 to play failing music business guru, Albert Peterson in Rising Youngstars production of Bye Bye Birdie. Jason is keen to pursue a career on stage and hopes to attend the Royal Conservatoire of Scotland to study Musical Theatre when he leaves school.
The King of Siam is an imposing ruler. Having been born into his royal position and educated only in preparation for the throne, his range of experience is very limited. The King is largely considered to be a barbarian by rulers of the West so in an effort to change his image, he employs British widow Anna as an advisor. The King is determined to usher Siam into the modern world and believes gaining a Western education for himself and for his children will be enable him to do that. Anna is horrified at first by many of the traditions that the King holds dear and initially the pair struggle to find common ground. With both keeping a firm grip on their respective traditions and values, Anna and the King gradually teach each other that understanding, respect, and love that can transcend the greatest of differences.
---
The kids rehearsing hard:
Some final preparations:
The stage is set: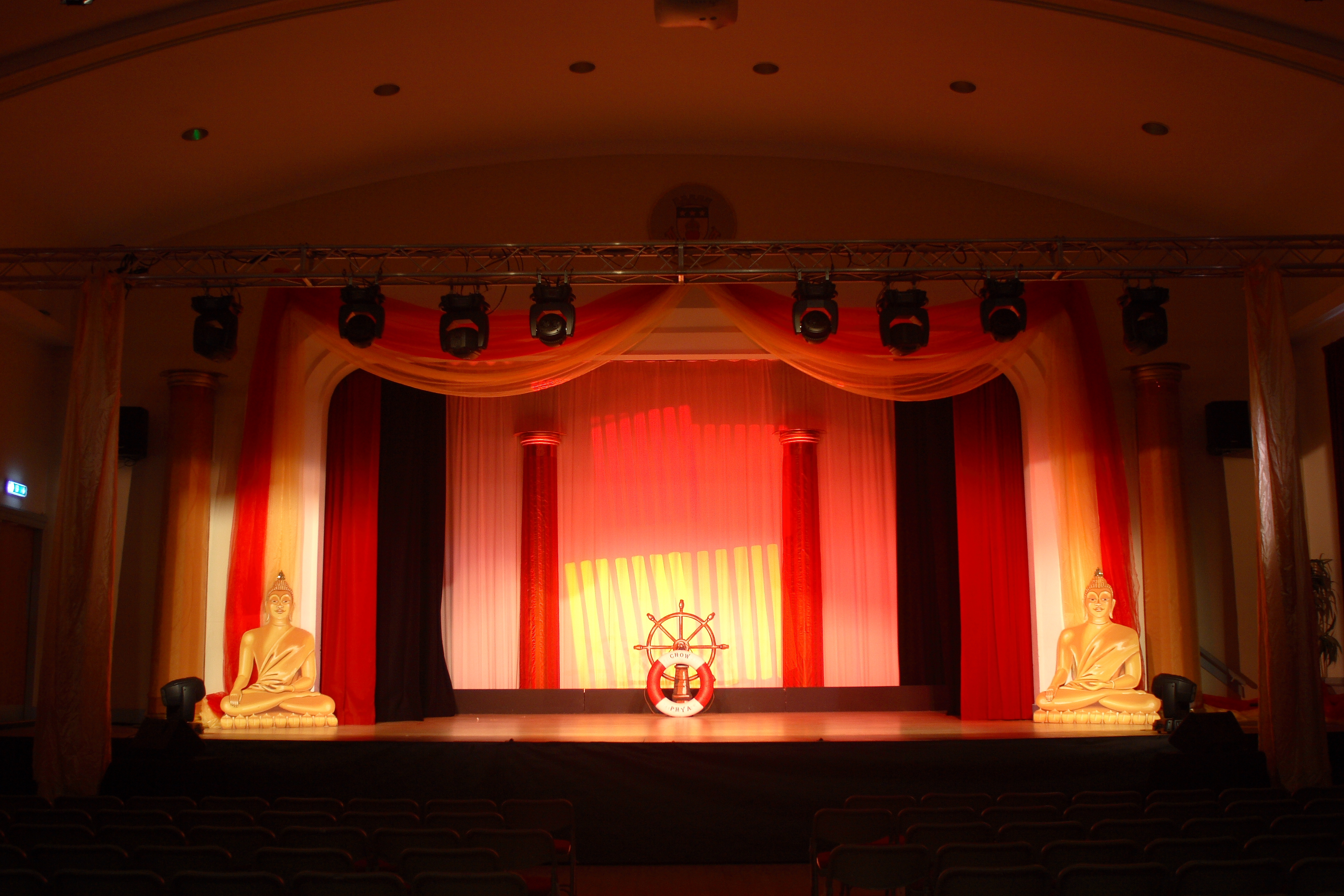 The show in full swing: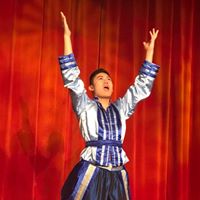 After the show there was a wee award ceremony. This time the awards were won by Isla Nelson (left) with the Brenda Letford Memorial trophy and Maddie Farquhar (right) with the Greig Baxter award so huge congratulations go to them both:
And the final goodbye to the stage for this show: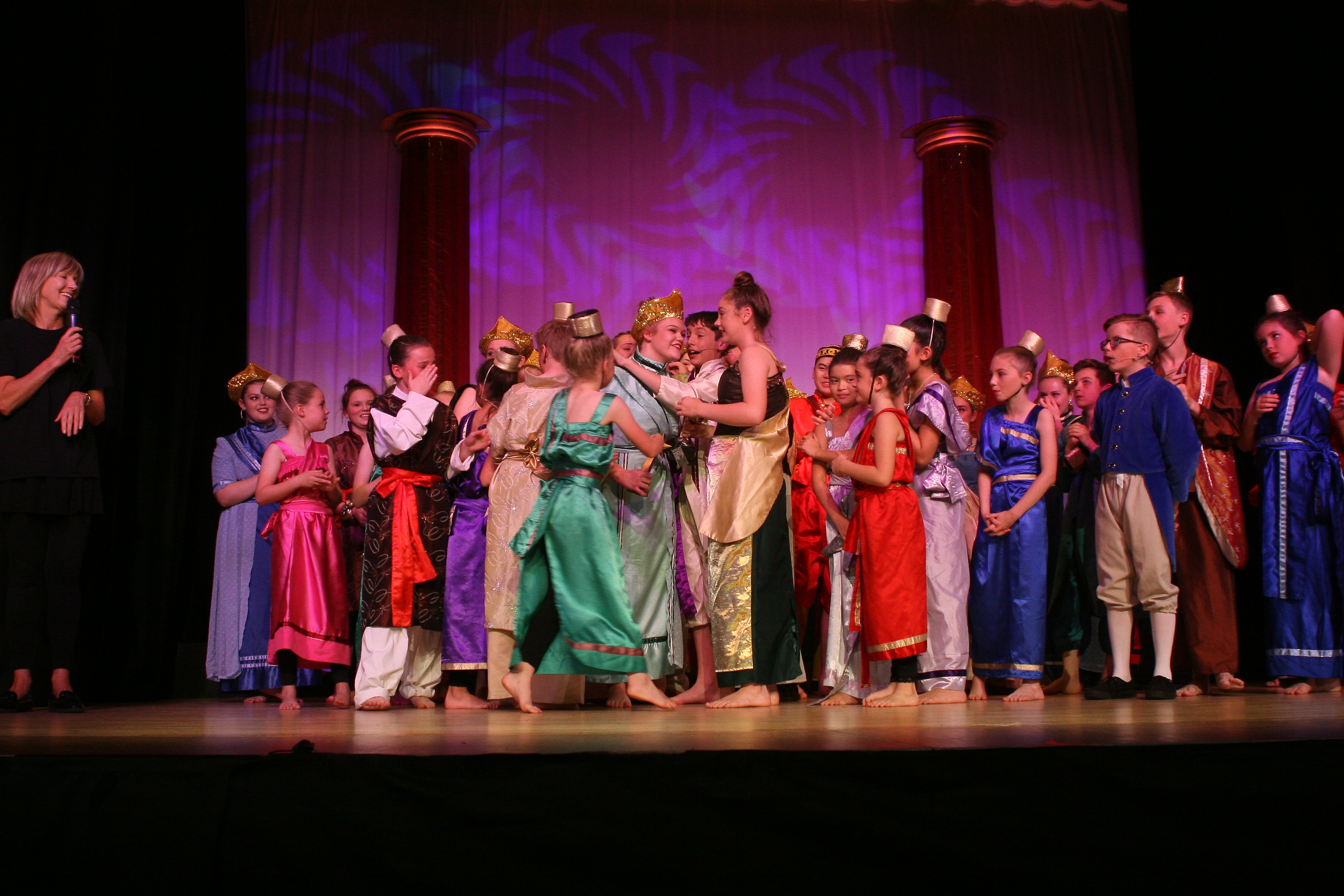 The kids then enjoyed the after-show party:
And lastly, some "behind the scenes" moments: